As we have already informed you that Pakistan Telecommunication Authority has introduced Device Identification, Registration and Blocking System (DIRBS) in order to identify and block the smuggled and unregistered phones. Now we have observed that PTA has started sending text messages (SMS) to all of the mobile phone users to verify their handsets, because after October 20th only registered and verified mobile phone will be functional. So get registered Your Device Before October 20 to Avoid smartphone blocked by pta.



Advantages of DIRBS Action
This system aimed at blocking illegal handsets include those with no or duplicated IMEI numbers, smuggled and snatched mobile phone and other SIM-run devices.
According to the telecoms watchdog, millions of handsets, have been smuggled or not registered with the PTA. Reportedly handsets with duplicated IMEI numbers were smuggled or imported through grey channels. These handheld sets and other devices like tablets will be blocked by PTA after October 20.
Check Your device Status
If you want to check That your device IMEI is valid or not just go to the following website and put your imei and check your imei is complaint or non complaint.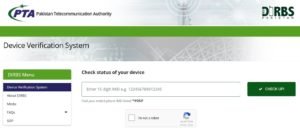 Or You can download official DIRBS  App from playstore to check your device status
Results of IMEI Checks
While checking the IMEI number of your phone through the above three methods, there could be three possible outcomes for your phone:



Valid IMEI: This means that your phone IMEI is GSMA approved but not PTA approved.
Invalid IMEI: Not a GSMA approved IMEI, nor PTA approved.
Compliant IMEI: It is both GSMA approved and PTA approved IMEI number. Depending on your scenario, here's what you need to do to register your smartphone so that it doesn't get blocked from normal use later on.
Thanks for reading this article.Visit topicboy.com daily for tech related articles.Thank you