Hello Guys,after long time i am back with another gaming article in which i am going to tell you about some amazing mobile games for IOS and of course android.In these days because of corona virus peoples are stuck in lock down and its important for your own safety from these kinds of viruses so stay at home and wash your hands regularly.Just dont go to the any public place or social gathering,So lets move on our main topic so i will always try to bring games from different categories and also i try my best to provide you amazing games in any kind of gaming article so without wasting anymore time lets move on the topic.
Lifeafter
In LifeAfter, the world has been devastated by a virus and, you guessed it, zombies roam the land. Don't stop reading just yet though. LifeAfter is more than just a knockoff of other mobile survival games floating around. Sure, the story is unimaginative – after being rescued and taken to Hope 101, you are commissioned with setting up camp in the Development Zone.
You will start by building what can barely be considered a shack. From there, you will gather a few resources to craft your basic tools, but you will have to head out into the wilderness to gather and scavenge the supplies you need to gain a foothold for your new home. LifeAfter offers up both PVE and PVE zones to do your gathering, so the choice is yours on whether you want to play nice or not (or alone for that matter).




As expected, you will have to deal with the infected during your expeditions, but it doesn't stop there. During the day you will rarely encounter infected, but you still have to deal with wildlife, weather, and starvation, not to mention other players in the PVP zones. At night, the infected come out in full force, so you either need to be prepared or find a safe haven. In the event you do die, some of your belonging will be dropped, though generally, it isn't enough to warrant a trek back to your grave unless you just can't bear to lose a few resources. There are plenty of NPCs to get quests from while out and about, and while some of these advance the story, many are just quick and easy ways to get bonus resources. Once you have filled up your backpack you will make your way back to an extraction point and head back to your manor.
Asphalt 8 airborne
Before you get to play the game, you have to download a whopping 1.5GB of data. The wait is well worth it. Once you launch it, you'll instantly feel like you're in an action movie. The adrenaline kicks off from the start and you quickly realize this game is all about speed and aggressiveness, fast and furious, and we really mean both. It's all about the action from the very start: drift, jump off platforms, hit other cars, you'll quickly forget your thoughts of safe driving – all to get you more precious nitro, pushing the pedal down to the floor again and again after every other drift.
The amazing graphics and wide selection of the newest cars are just the background. But boy is it a good looking background. With a brand new physics engine and sharper graphics, the game truly looks like a console masterpiece, not a mobile game. The cars are amazing – you start off with enough money to buy just one, but as you progress the game would require you to buy new cars to enter certain events and progress. You have got all the mainstream cars plus some exotics – we loved that we could buy a Tesla Model S, and more expensive cars like Mercedes, Lamborghini, Marussia, Koenigsegg and even some concept cars were all welcome additions.You can download this agme from the following link.
Star war Knights of old republic
Star Wars: KOTOR is from the Star Wars franchise, providing any Android platform users the full experience of the game. The game's file size is similar to the console and PC version, so that download time can be longer than the average. The timeline of the game is four thousand years before the beginning of the Galactic Empire. The choice is yours to become a hero, a savior, or a villain who embraces the dark side.This game is my one of the favourite android game due to following amazing and cool features



Key Features
You will be able to roam around eight different worlds with your starship.
It offers a customizable controlling system and features full HID controller support.
The game offers an epic star war storyline with excellent role-playing experience.
You will be able to travel to the famous Star Wars locations, such as Tatooine and Kashyk.
This best paid Android game allows you to choose your party from 9 different characters and factions.
The game interface is touch screen optimized and easily accessible.
You can download this game from the folllowing link.
WWE Mayhem
The WWE are a phenomenon of their own which produces characters that are larger than life. On TV anyhow. Gaming is another story. Often, WWE games are better than other wrestling games but there have been some mishaps lately, especially in the mobile world. I won't mention WWE Tap Mania again but it is not exactly what I think of when I think WWE. Now, WWE Mayhem is another story. This is how a WWE game should be on mobile. It is over the top, it is loud, it is painful sometimes to watch. It is just like the weekly shows fans enjoy.



This android is is my favourite WWE game after wwe immortals But unfortunately wwe immortal is no more on playstore so now i am enjoying this game a  lot you can download this game from the following link.
Gta Vice City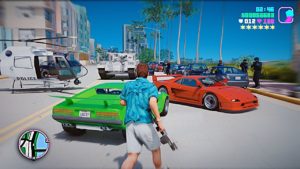 If you have played Grand Theft Auto 3 on mobile devices, then don't expect too much to be different here in terms of the way the game plays. Control schemes are basically identical and weapon handling is also, although Vice City benefits from a better lock-on system and bigger arsenal of guns. Graphically, playing this game on the Retina display iPad is fantastic. It turns a title that was muddy and washed out on consoles into a vibrant and colourful affair.
The same applies, we expect, to the Android version, which we haven't been able to try yet because of issues with the app on Google Play. For £2.99, you are getting an incredible amount of game to play with. Vice City has much more content to it than GTA 3. There are more cars, boats and even aircraft and helicopters to mess around with. Missions are more diverse and the whole game has just a better level of polish.




Voice acting, by the likes of Ray Liotta and Dennis Hopper, is absolutely brilliant. Name any other app priced at £2.99 with Dennis Hopper in and the beers are on us. The story is as wild as any other GTA and the whole 1980s setting is done so perfectly. Radio and music is also a particular highlight and boasts just the right amount of catchy but awkward songs so as never to feel repetitive.You can download this game from the following link.
I hope you guy enjoyed this article if you like this then must share with you friends and family and keep visiting topicboy.com for daily tech related articles.Thank you